Paper vs Plastic
A huge thank you to Mrs Midson for her informative and inspiring video made for the children about how she supports the fight against plastic every day in her job as a development manager for a packaging company. The children were wowed by the facts and enjoyed learning about how what we have learnt applies to a real life context.
Click the picture below to watch the video!
Sports Day
Wow! What a wonderful day we had and the rain didn't dampen our spirits! Cocoons were awesome and did really well in both their rotation actitivies in the morning and the races in the afternoon! Sorry I didn't win the teachers' race guys! They also made some awesome iMovies about their favourite sports personalities and had delicious ice lollies from the Friends - a great end to a super day!
Very proud of you all! :-)
Year 4 Mulitplication Tables Check
Please click here for the link to the government information for parents. :-)
Forest School - SMILE Meadow
The children had a lovely afternoon making popcorn and dens, as well as exploring the local wildlife. We even spotted a buzzard!
Science - States of Matter
15/6/21 Update - ​Following our previous experimenting, today, we observed the effects of acid reacting and producing the gas, carbon dioxide. It blew up a balloon!
The children have been learning about the different states of matter and their properties. They built models to show particles in the different states and investigated a variety of materials to test whether they were solids, liquids or gases.
Science Centre trip
A fun learning day out was had by all! Huge thanks to the Friends for subsidising the trip and to the staff who supported us, as well as to those at Herstmonceux Science Centre. The children experienced a light show, had a telescope tour and experimented with many hands-on exhibits.
Geography and Art
The children have been learning more about dependency within the rainforest and the complexties involving the biodiversity that can be found there. We played a game using a story showing how all living things are interlinked. We also began to create our rainforest collage animal eyes learning about colour value. The children were so excited to begin this stage of the collage process and will finish their eyes next week.
Forest school - Wilderness Woods
This week the children have been lucky enough to experience a forest school session at Wilderness Woods, just a 10 minute walk away! They played games and acted out the connections between things in the forest and the dependency on trees to link to our rainforest topic. After this, the children got their creative juices flowing making prints related to nature. We also managed to squeeze in a lovely free playing session and lunch in the woods. A huge thank you to the organisers at Wilderness Woods.
Art - Rainforest Animal Collages
Today, the children created the first stages of their collages. They experimented with colour, pattern and the technique of resist using wax crayons and paint, all on a large scale. There were no real limits on what they could draw and paint: the choice was theirs! They could even use their hands!
Geography - locating the rainforests
I was very impressed with the children's use of atlases to locate rainforests. Using what they had learnt about rainforests and their climates as well as knowledge of the equator, the tropics of Cancer and Capricorn and continents, the children located and labelled countries around the world where rainforests are found.
Welcome to terms 5&6: Respect and Protect
Cocoons will be venturing into the depths of some of the world's most beautiful places over the coming two terms. Firstly, we will explore the complexities and diversity of the rainforests before heading to the vast oceans that cover at least 75% of the Earth's surface and contain the majority of living things. We will learn to respect and protect these valuable assets.
Link to topic related homework (voluntary!)
Red Nose Day
The children enjoyed dressing up in superhero outfits and taking part in some superhero activities. One of our fantastic school council members organised superhero keyring and mask making. During lessons, they thought about what made them a reading superhero and continued their training to be homophone heroes in spelling!
Maths - tenths for graphing
The children asked 10 of their classmates questions about reading. After tallying up the results and writing these in tenths, they drew a graph to represent their findings.
RE - The emotions of Holy Week
Having learnt about the three key days in Holy Week and written diary extracts as Mary, mother of Jesus, during this time, the children embarked on representing these emotions in different ways. They made an emoji graph, created freeze-frames and have started designing triptychs.
Theseus and the Minotaur Soundscapes
The children were asked to think about the volume, tone, pitch, instrument and tempo for each event in Theseus and the Minotaur. They worked as groups to produce a soundscape for each event and justified their musical choices.
Interviewing for Newspapers
In order to gather quotes from characters for their newspaper reports, the children interviewed each other and gave answers using their understanding of the characters.
Freeze frame and hot seating
To help us understand how Theseus was feeling, we acted out the story and used freeze frames to capture his emotions. We then used hot seating to learn more about the characters. The children took it in turns to sit in the hot seat and asked the character questions to find out more.
Spelling Hunt
After a hunt around the classroom for the root words, the children tried out the different endings and found patterns for adding them.
Guess the Myth
To consolidate their understanding of the Greek myths on our return to school, the children were given a prop from which to infer each myth and justify their reasoning. Excellent discussion, and fun, too!
Amazing Maze - Theseus and the Minotaur
To build vocabulary and aid discussion of the story, the children entered the Minotaur's maze today and followed the string, just like Theseus! As well as finding the Minotaur, they found words which they added to a timeline of the myth and discussed to develop synonyms.
STEM Icarus Wings-Science Week
As it is science week, we decided to link our topic work on the Greeks to a science activity. Icarus needed new wings as his last ones didn't work very well! The children's task was to design and build new wings for Icarus. They had to consider weight, shape, angle and size amongst other things! How far would they fly?!
Exciting Electricity
We were able to make our own circuits today and see electricity in action! After practising by acting out a simple circuit outside, the children investigated complete and incomplete circuits with cells, wires and lamps.
One of our wonderful Cocoon parents made a video all about their job as an electrician to support the children. It was great to see electricity in a real life context. It really brought their learning to life.
Times Tables
This week, the children have been practising their times table knowledge through games such as, Rock, Paper, Scissors and quick fire card games.
Fractions
This week we have been investigating fractions using resources and real life examples to help us.
This week is Children's Mental Health Week. Click on the picture to be taken to some activities related to this. Click here for a fun drawing activity which encourages the expression of feelings in a fun and accessible way. .
Please head to our Home Learning page for remote learning support. As always, please do contact me on the Cocoons email address if there are any problems, glitches or you just need some extra support. I will answer all emails as promptly as possible. Thank you, Mrs P :-)
Happy New Year and welcome to Term 3.
We will need our time machines this term as we are travelling back to a most ancient and most excellent civilisation - Ancient Greece!
Please find our learning journey overview below (click the pic for a larger version) and a selection of topic homework ideas to choose from on a rainy day!
Thank you to our generous Cocoons' parents and children for their kind contributions to our reverse advent calendar. I will be taking them to the food bank this weekend and I am sure they will be greatly appreciated.
Well done, Cocoons! Have a wonderful and safe Christmas. Mrs P :-)
Christingles
Today, the children made their Christingles and learnt about their meaning.
It's Christmas!!!
Christmas party day arrived and got Cocoons in the festive party mood! Amazing Christmas hat making made it a very tricky decision for Mrs Stow to choose a winner. Crackers (or cosaques!) were pulled, party games were played and there was some very dodgy Christmas dancing from Mrs Pridmore! Thank you to Santa for a surprise virtual visit and to the Friends for the children's super presents!
Art
.Today, we applied what we had learnt to create our final pieces of traditional, Indian 'Kalamkari' art. We thought about repeated patterns and the colour palette used in Kalamkari artwork.
Christmas wreath making
Thank you so much to Mrs Holt for donating beautiful Christmas wreaths and providing the decorations for the children to add to it. They can be seen at the front of the school.
Geography
We used our prior learning from Term 1 to sort photos of India into rural and urban.
After that we learnt about life as a child in two contrasting areas of India from two children's perspectives. This will support our final piece of writing about India when we answer the question, "Is India a land of contrasts?"
Science - Bones
Today we learnt about the different bones in the human skeleton. We also learnt about the different types of skeletons. The children then made their own skeletons out of straws and labelled them.
RE
After comparing how light is used as a symbol in both Diwali and Christmas, the children made Diya lamps from clay and decorated them.
Science - Wednesday 18th November
Today Cocoons were invited to a STEM assembly about colour and light. The presenter explained his role in science and how he used the different STEM strands in his day-to-day job. He also engaged the children in a couple of light and colour experiments.
English - Wednesday 4th November
The children enjoyed an online visit from Adisa the Verbaliser, a performance poet who engaged the children with his own poetry, encouraged interaction and inspired them to write their own cinquain poetry.
Welcome to Term 2. I hope you have had a super half-term.
We will continue with our Journeys topic but will be venturing further afield this term, to the intruiguing and inspiring country of India. A country of extremes, we will be enticed and enthralled as we explore.
Head to the home learning page for some topic related homework you can try!
Here is the link for the Indian dance we are learning in P.E. We watched some Indian dancing today and learnt some of the features and techniques to apply to our own dancing.
Thank you to Mrs Heath for sharing this India related link to an article about Indian tigers, who are in danger of becoming extinct.
Meet the Teacher
Due to the current situation, we are sadly not able to invite parents into the classroom for our normal 'Meet the Teacher' session. In place of this, please find the below PowerPoint presentation which will guide you through key details for Cocoons Class. I have also added the welcome booklet that was sent out at the end of last year to support with the move from Year 2 to Year 3.
Map Skills Field Trip
Yesterday, the children went on a field trip to the Ashdown Forest. They used their compass and map skills to make their way to various destinations across the forest. They also used their knowledge of 4 figure grid references to identify their location on an ordanace survey map. Despite the weather, the children had lots of fun testing out their new skills and exploring the area.
Science/Computing
Today, the children had a very special virtual video visit from one of our fantastic parents, who uses classification in her job, working in horticulture for a plant breeder's agent.
Watch her amazing video here!
The children then created their own classification keys using 2Question a branching database program on Purple Mash.
R.E
The children have enjoyed learning about the beauty of our world and we looked at the Buddhist religion which holds nature in high esteem through the precept 'Ahisma'. They also listened to the song by Celtic Thunder, 'All God's Creatures Have a Place in the Choir'. Listen to it here!
Andy Goldsworthy Land Art
The weather finally held and we became land artists!
The children thought carefully about symmetry, radial designs, tone and pattern to create some super natural designs on the playground, in the style of Andy Goldsworthy.
RHSE
Miss Aldis taught her first lesson with Mrs Pridmore today! She showed the children, "Shine" a book that she used to discuss emotions and feelings. The children took part in a conscience alley to show how they would support someone who was struggling with negative feelings and emotions.
Art
Today, Cocoons began to investigate the work of British artist, Andy Goldsworthy and the concept of Land Art as a form of sculpture.
Geography
We have been focusing on map work this term: learning Ordinance Survey symbols, looking at OS maps of the local area, finding out features of The British Isles and the difference between rural and urban.
Monday 14th September
As part of healthy lifestyles in our RHSE curriculum, we have been looking at how viruses and bacteria can affect our health and what routines we can use to stop them spreading. Today, we used the Pelican UV light as an experiment to illustrate the importance of washing our hands thoroughly! The children were so surprised and shocked at some of the results. Some of these photos are before washing and some are after!
Tuesday 15th September
Cocoons had their first Neuro Ninja Assembly today with Andrew Wright which focused on well-being, using The 12 Rocks and how awesome our brains are! Look out for a link to a webinar which parents can join to help your child be the best version of themselves.
Thursday 10th September
To kick off our topic, Where My Wellies Take Me, we took our first welly walk down the old drovers' trail to gather blackberries. We also looked for waypoint markers. The children did so well to harvest so many and we were able to cook blackberry and apple crumble afterwards. It was lovely to be out and about and exploring the local area. Thank you so much to our fantastic parent helpers. :-)
Our topic this term is 'Journeys'.
We will be focusing on local journeys in Term 1, exploring our beautiful village and all it has to offer. Using the book, 'Where My Wellies Take Me', by Clare and Michael Morpurgo as inspiration, we will investigate poetry and the natural world.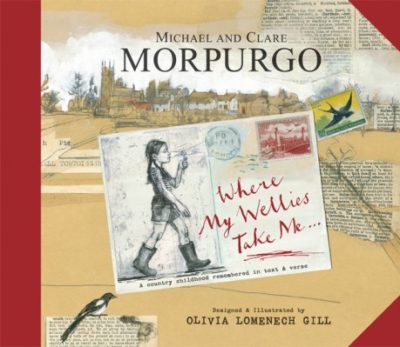 Information for Cocoons Class:
Drop off and collection will be from the church gate.
The school day will start at 9:00am and finish at 3:15 for Cocoons.
We will be doing P.E on a Thursday.
Please could children come to school in P.E kit unless notified via Marvellous Me.
Please ensure children bring a waterproof coat in every day; should the weather take a turn for the worse, we will be prepared!