RE
After comparing how light is used as a symbol in both Diwali and Christmas, the children made Diya lamps from clay and decorated them.
Science - Wednesday 18th November
Today Cocoons were invited to a STEM assembly about colour and light. The presenter explained his role in science and how he used the different STEM strands in his day-to-day job. He also engaged the children in a couple of light and colour experiments.
English - Wednesday 4th November
The children enjoyed an online visit from Adisa the Verbaliser, a performance poet who engaged the children with his own poetry, encouraged interaction and inspired them to write their own cinquain poetry.
Welcome to Term 2. I hope you have had a super half-term.
We will continue with our Journeys topic but will be venturing further afield this term, to the intruiguing and inspiring country of India. A country of extremes, we will be enticed and enthralled as we explore.
Head to the home learning page for some topic related homework you can try!
Here is the link for the Indian dance we are learning in P.E. We watched some Indian dancing today and learnt some of the features and techniques to apply to our own dancing.
Thank you to Mrs Heath for sharing this India related link to an article about Indian tigers, who are in danger of becoming extinct.
Meet the Teacher
Due to the current situation, we are sadly not able to invite parents into the classroom for our normal 'Meet the Teacher' session. In place of this, please find the below PowerPoint presentation which will guide you through key details for Cocoons Class. I have also added the welcome booklet that was sent out at the end of last year to support with the move from Year 2 to Year 3.
Map Skills Field Trip
Yesterday, the children went on a field trip to the Ashdown Forest. They used their compass and map skills to make their way to various destinations across the forest. They also used their knowledge of 4 figure grid references to identify their location on an ordanace survey map. Despite the weather, the children had lots of fun testing out their new skills and exploring the area.
Science/Computing
Today, the children had a very special virtual video visit from one of our fantastic parents, who uses classification in her job, working in horticulture for a plant breeder's agent.
Watch her amazing video here!
The children then created their own classification keys using 2Question a branching database program on Purple Mash.
R.E
The children have enjoyed learning about the beauty of our world and we looked at the Buddhist religion which holds nature in high esteem through the precept 'Ahisma'. They also listened to the song by Celtic Thunder, 'All God's Creatures Have a Place in the Choir'. Listen to it here!
Andy Goldsworthy Land Art
The weather finally held and we became land artists!
The children thought carefully about symmetry, radial designs, tone and pattern to create some super natural designs on the playground, in the style of Andy Goldsworthy.
RHSE
Miss Aldis taught her first lesson with Mrs Pridmore today! She showed the children, "Shine" a book that she used to discuss emotions and feelings. The children took part in a conscience alley to show how they would support someone who was struggling with negative feelings and emotions.
Art
Today, Cocoons began to investigate the work of British artist, Andy Goldsworthy and the concept of Land Art as a form of sculpture.
Geography
We have been focusing on map work this term: learning Ordinance Survey symbols, looking at OS maps of the local area, finding out features of The British Isles and the difference between rural and urban.
Monday 14th September
As part of healthy lifestyles in our RHSE curriculum, we have been looking at how viruses and bacteria can affect our health and what routines we can use to stop them spreading. Today, we used the Pelican UV light as an experiment to illustrate the importance of washing our hands thoroughly! The children were so surprised and shocked at some of the results. Some of these photos are before washing and some are after!
Tuesday 15th September
Cocoons had their first Neuro Ninja Assembly today with Andrew Wright which focused on well-being, using The 12 Rocks and how awesome our brains are! Look out for a link to a webinar which parents can join to help your child be the best version of themselves.
Thursday 10th September
To kick off our topic, Where My Wellies Take Me, we took our first welly walk down the old drovers' trail to gather blackberries. We also looked for waypoint markers. The children did so well to harvest so many and we were able to cook blackberry and apple crumble afterwards. It was lovely to be out and about and exploring the local area. Thank you so much to our fantastic parent helpers. :-)
Our topic this term is 'Journeys'.
We will be focusing on local journeys in Term 1, exploring our beautiful village and all it has to offer. Using the book, 'Where My Wellies Take Me', by Clare and Michael Morpurgo as inspiration, we will investigate poetry and the natural world.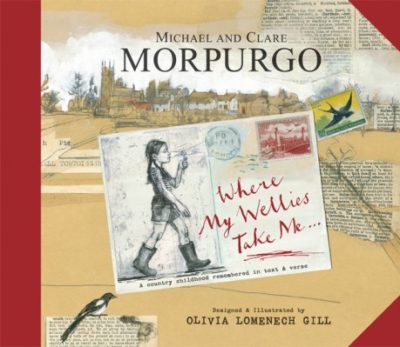 Information for Cocoons Class:
Drop off and collection will be from the church gate.
The school day will start at 9:00am and finish at 3:15 for Cocoons.
We will be doing P.E on a Thursday.
Please could children come to school in P.E kit unless notified via Marvellous Me.
Please ensure children bring a waterproof coat in every day; should the weather take a turn for the worse, we will be prepared!